Epoxy putty is a versatile and powerful adhesive that has a wide range of uses. Made from a combination of epoxy resin and a hardening agent, this putty is known for its exceptional strength and durability. With its unique properties, epoxy putty can be used in various applications where strength is crucial.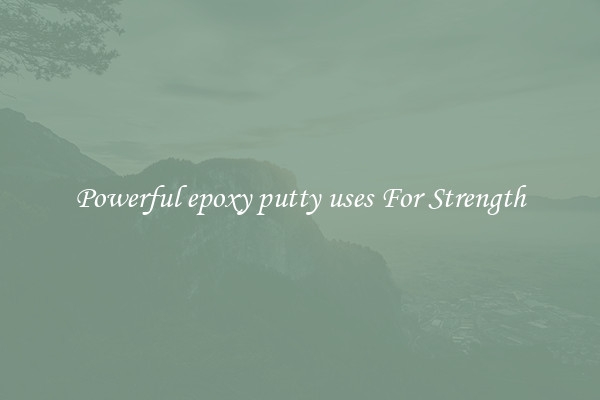 One of the main uses of epoxy putty is in construction and repairs. When it comes to fixing broken items or reinforcing weak structures, epoxy putty is the go-to solution. Its strong bond can hold together even the most challenging materials, such as metals, concrete, ceramics, and wood. It can repair cracks, fill holes, and even rebuild damaged parts. Whether it is fixing a leaky pipe, patching holes in walls, or repairing a broken statue, epoxy putty delivers the strength needed to make the repairs last.
Another powerful use of epoxy putty is in automotive repairs. Cars and other vehicles often experience wear and tear over time, resulting in broken parts or damaged surfaces. Epoxy putty can be used to fix dents, fill in gaps, and reinforce weakened areas. It can bond metals, plastics, and fiberglass, making it an indispensable tool for any car enthusiast or mechanic. From repairing a cracked bumper to reinforcing a damaged body panel, epoxy putty provides the strength required for long-lasting repairs.
Furthermore, epoxy putty has numerous uses in plumbing. With its powerful adhesive properties, it can bond and seal pipes, fittings, and fixtures. This makes it an ideal solution for repairing leaks or strengthening weak joints. Whether it is fixing a small leak in a pipe or sealing joints in a plumbing system, epoxy putty ensures a strong and reliable seal.
Epoxy putty is also popular in arts and crafts projects. It can be used to create sculptures, models, and other artistic pieces. Its adhesive properties allow it to bond various materials securely, providing structural support and durability to the artwork.
In addition to its strength, epoxy putty is also resistant to many chemicals, heat, and water. This makes it suitable for use in demanding environments such as factories, laboratories, and outdoor areas.
In conclusion, epoxy putty is a powerful adhesive with countless uses for strength. From construction and repairs to automotive and plumbing applications, epoxy putty provides the strength necessary for lasting and reliable solutions. With its versatility and durability, it has become an essential tool in various industries and everyday life.