Natural Looking Wholesale Extensions for Very Short Hair of Many Types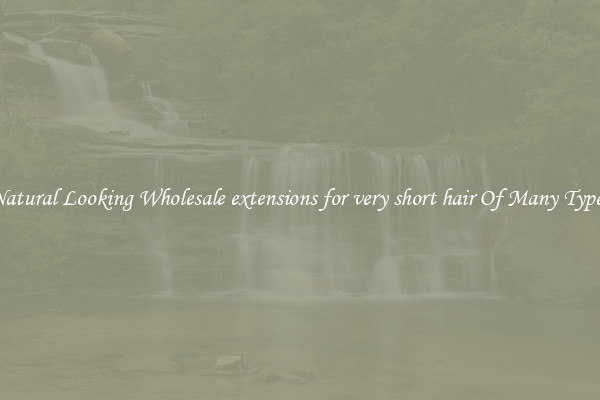 Having short hair doesn't mean you can't have long, luscious locks whenever you desire. Thanks to wholesale extensions, it is now possible to achieve natural-looking, beautiful hair that seamlessly blends with your short hairstyle. With multiple options available, you can find the perfect extensions that suit your needs and preferences, regardless of how short your hair is.
Clip-in Extensions:
Clip-in extensions are an excellent choice for those with very short hair. These extensions come in wefts, which are attached to clips. These clips can easily be secured to your natural hair, creating an instant, natural-looking length and volume. The great thing about clip-in extensions is that they are removable, allowing you to experiment with different styles and lengths without committing to permanent changes.
Tape-in Extensions:
If you're looking for a more semi-permanent option, tape-in extensions are an ideal choice for short hair. These extensions are affixed to your natural hair using a gentle, adhesive tape. They lie flat against the scalp, providing a seamless and natural appearance. Tape-in extensions offer excellent durability and can be easily maintained, making them a popular choice for those with very short hair.
Micro-link Extensions:
Micro-link extensions, also known as micro-ring or bead extensions, are another great option for short hair. These extensions are attached to your natural hair using small, silicone-lined beads. This method is gentle on your natural hair and provides a secure, long-lasting hold. Micro-link extensions offer versatility, as they can be adjusted and removed as needed. With proper care, these extensions can last for several months, allowing you to enjoy long, flowing locks even with very short hair.
Sew-in Extensions:
Sew-in extensions, also known as weave extensions, involve braiding your natural hair and then attaching the extensions by sewing them onto the braids. This method provides a secure hold and allows for a natural-looking blend. Sew-in extensions are perfect for short hair, as the braids create a stable foundation to attach the extensions, resulting in added length and volume. These extensions can last for several weeks, providing you with a low-maintenance option for achieving longer hair.
Choosing the Right Wholesale Extensions:
When selecting wholesale extensions for short hair, it's essential to consider the quality of the hair, the texture, and the color match. Opt for high-quality, human hair extensions to ensure a natural-looking result. Additionally, choose extensions that closely match the texture and color of your natural hair for a seamless blend.
In conclusion, having short hair should not limit your options for achieving long, beautiful locks. With the availability of wholesale extensions in various types, including clip-in, tape-in, micro-link, and sew-in, you can easily find the perfect extensions to suit your needs. Whether you're looking for a temporary change or a semi-permanent solution, these extensions offer natural-looking results that seamlessly blend with your short hairstyle. Embrace the versatility that extensions provide and transform your short hair into a stunning, head-turning style.